Atitlan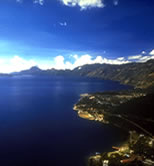 Panajachel is in the Guatemalan highlands and provides incredible views to three volcanoes and the Lake Atitlan. The volcanoes, San Pedro, Toliman, and Atitlán set an incredible stage for this town. Panajachel is also the gateway to explore the three indigenous villages around Lake Atitlan. Santiago Atitlan, Santa Cararina Palopo and San Antonio Palopo, all are famous for its women weavers and their typical clothes.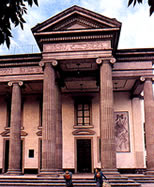 During the period of the Spanish conquering Guatemala, the shores of the lake were the scene of the great battle in which the Spanish and their Cakchiquel allies defeated the Tzutuhils. The Spanish set up a church and monastery in Panajachel soon afterward, and used the town as a center for converting the Indians of the region to the Catholic faith. The original façade of the church stills stands, and is one of the gems of the colonial style in Guatemala.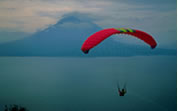 Panajachel, or Pana as it is called by many locals, is a town full of interesting sights, sounds, and smells. The town has numerous hotels and is full of small quality restaurants and interesting nightspots. During the day you can visit the surrounding villages, enjoy the breathtaking views onto the volcanoes that surround the lake or visit Panajachel's busy market street. It is one of the best places in Guatemala to shop for souvenirs.
For more information, tour packages and itineraries, please contact EnjoyGuatemala.com